Environmental Stewardship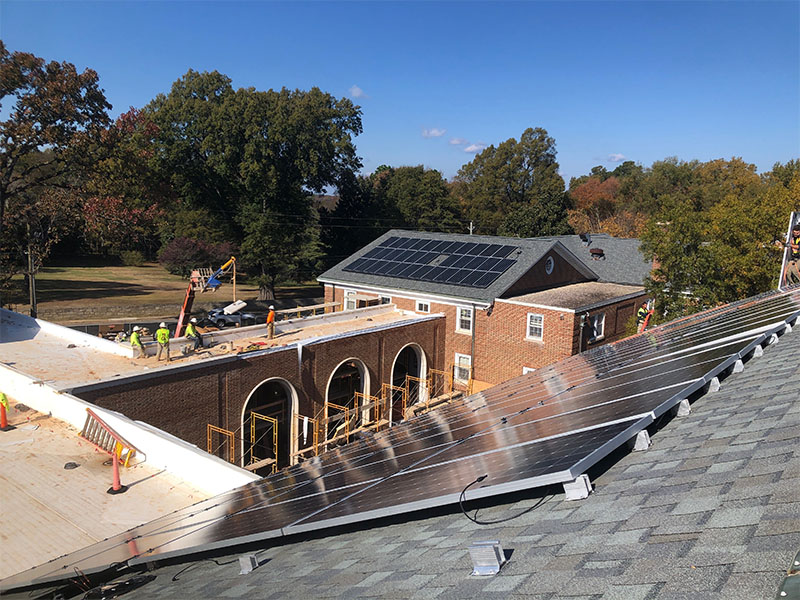 Solar Power
White Memorial is committed to environmental stewardship. Part of our energy is supplied by a 100kW solar array located on the roofs of the Luther and Knox buildings. Follow this link to see how much energy we are producing, reducing greenhouse gas emissions, and creating a more sustainable ministry for generations to come.
Presbyterian Coffee Project
In 2009 WMPC's Environmental Stewardship Committee began participating in the Presbyterian Coffee Project in an effort to help small farmers and their families worldwide. Products sold at WMPC are sold at cost in order to support the Coffee Project and to ensure that the farmers receive a fair price for their crops. Started in 2001, the Presbyterian Coffee Project is a collaboration between Equal Exchange and the Presbyterian Church (USA)'s Enough for Everyone Program to involve more Presbyterian communities and individuals in supporting small farmers around the world. For each pound of fairly traded coffee, chocolate, tea and foods Presbyterians purchase through the Coffee Project, 15 cents per pound goes to the PC(USA)'s Small Farmer Fund. That fund amounted to $14,801.07 in 2014 alone.
Presbyterian Coffee Project products are available for purchase at all of WMPC's Wednesday dinners.
Contact: Carol Gates for details or to place an order.
Environmental Stewardship Committee
In 1990 the Presbyterian Church declared restoring creation as a central concern of the church and recognized that incorporating restoration into its life and mission of every level is essential. At WMPC, the Environmental Stewardship Committee works to meet these responsibilities. As a congregation committed to environmental stewardship, we focus our efforts in four categories. Examples include:
Worship
Encourage sermons, hymns, and prayers to remind us "the earth is the Lord's"
Education
Put reminders to conserve on light switches, faucets, and paper towel dispensers, host guest speakers, write "Caring for Creation" thoughts for the newsletter, celebrate Earth Day
Facilities
Provide recycling bins, promote energy conservation (lighting upgrades, programmable thermostats), monitor water and energy usage, facilitate "green" meals
Fair Trade
We support the Presbyterian Coffee Project and sell Fair Trade coffee, tea, and chocolate at many Wednesday evening meals.
Recycling
We collect batteries and light bulbs for recycling in the hallway off The Connector.
We are constantly striving to make WMPC as sustainable as possible. To join in our commitment to the environment, please contact Joe Lemanski.