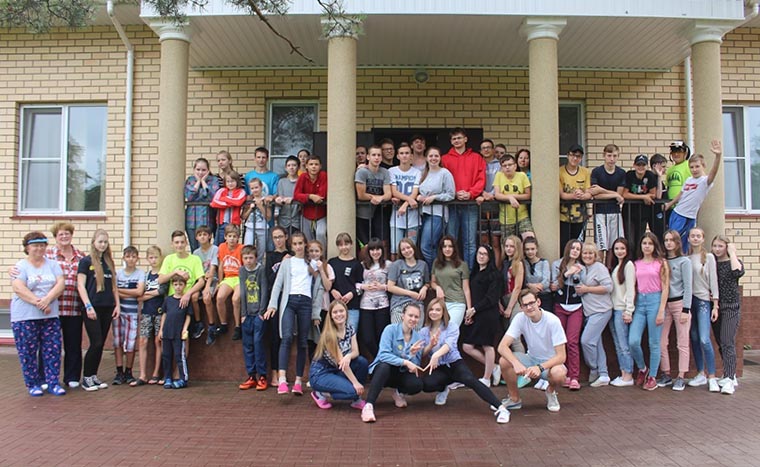 08.26.19

|

Stories, International, Russia, Service

| by

Olya Ignatenkova
Dear friends from WMPC,
I am writing on the behalf of many families from Smolensk region who thank you for your constant help in Smolensk camp RODNIK! This year we tried an absolutely new way of camp for us. We had 2 sessions of family camps. It was unusual but very good. The families gathered to have special time together. Parents and their children had Bible lessons together, prepared skits, had wonderful fellowship, ran in the forest, gathered berries, prayed in a big circle. It was really good.
The adults now understand the children who love the camp so much. We hope these camps helped the families at church to become more united, to understand each other better. We tried to invite those who are not very active at church as well, for them to feel themselves as a part of the church family. One session was mostly for the Smolensk Central church. Another session was organized by Gnezdovo church.

One of the ladies wrote her impressions after the family camp. I am glad to translate it for you. I tried to keep her style :)
Family is our main value here on the Earth. That's why each opportunity to be together is very important. And this summer our Lord has given us such a wonderful opportunity. With the blessings of Pastor Victor Ignatenkov the families from our church could spend wonderful days in our beloved Rodnik territory. It was great time for moms, dads and their children. These days were full of happy fellowship, the most positive and bright emotions.


God gave us wonderful weather, it was not hot and it was not rainy, So, we could have activities outside, games in the forest, sport in the soccer field. The air in our camp is the freshest and the best in the whole region. At least we think so. In the evenings we gathered all together in the worship hall. We had a worship service. All the families took part in it, skits, songs, rhymes. Even our youngest members of the families who are 2 years old took an active part as well.

We had a lot of fellowship, now to know each other much better, although we go to the same church many years already, we found new talents, opened people from the new side for ourselves. Praise the Lord.


And of course we had very delicious food. Sometimes we think that it is the brightest peculiarity of our church . We can write a lot more about these days. But it will be better if we not discuss, but repeat it. We are so thankful to those who helped in the organization, who wrote the program, helped with food. We are thankful to pastor Victor and to our friends from North Carolina who helped this camp to take place. Now all the families who came this year are constantly praying for the family camp to be organized next year. Join us in prayers.
Besides, we had a session for teenagers and youths. From 13 (sometimes 12) till 17 years old . I did not take part in it, so here is the report from Natasha, who organized this teenagers' sessions.
Summer is a happy period, all the children are waiting for it from September. The lessons are over, teachers, tests, sleepless nights before exams are over. Summer is a wonderful period of new impressions, new friends, long days and of course the camp. The children and teenagers are waiting for this opportunity to be in the atmosphere of the camp: interesting games, Bible lessons, funny activities, good friends, whom they did not see the whole year.
This year as usual more than 40 boys and girls from Smolensk and other places of the region came together to spend a week in Rodnik. This quite picturesque place in the suburb of Smolensk became noisy, moving, almost sleepless. The program was full of activities, so the young people did not miss their phones, which had rest in the director's room.
The main theme of the camp this year was relationship. Relationship with God, with parents, with church, between boys and girls. How to meet new friends, how not to be in contra with parents, what they shall know about family. What does it mean to be a part of the church family, how to find your place in the ministry and not to get disappointed. Many of the teenagers who came to the camp did not take these questions seriously. They expected that everything will somehow be done by itself. The ministers who came every day for Bible lessons showed what the Bible says about all kinds of relationships. They helped to see their responsibility for their choices.
After each Bible lesson the teenagers had a discussion in their small groups, where they could openly share their opinions. And we were surprised to see real changes in their judgments and views. Some of the boys came just to spend time without parents and they hoped to misbehave. But after 5 days we could hear their serious thoughts, they became friendly, were ready to help in cleaning up. Several examples:
Misha, our most active and naughty boy finally had many questions and suddenly become more serious. Ilya from a very difficult family, living in a small village, at first constantly was trying to run away from the Bible Lessons and discussions, he did not want to take part in our program. During our last days Ilya was always near his leaders and was one of the most active participants of all the games and activities. We thank God for these changes.
Daniel, a 14 year old boy with very sad eyes did not trust anybody. At the very first day he said that he did not need friends, he did not want to be in the camp. It was his grandpa, who brought him to the camp, and as his grandpa is the only adult person in his life, he could not say "no". Daniel is a refugee from Donezk. He went through bombing and life in a basement. He knows what it means to be starving and to see death nearby. And the result of this experience could be seen in his behavior. When it was the last day, Daniel was the first one who ran to us with hugs. He really did not want to leave.
There were children from big families, who had no opportunity to go anywhere for vacation. There were children from small villages, who rarely come to any bigger towns. Rodnik was the only opportunity for them to go somewhere for rest. All these teenagers became one big family. They became good friends.
We thank everybody who helped to organize this camp. God bless you!
Dear friends,
We hope you all have a blessed summer. God be with you. We pray for you and thank God for our friendship. Please send our warmest greetings to WMPC.

Olya.
--
С уважением, Ольга