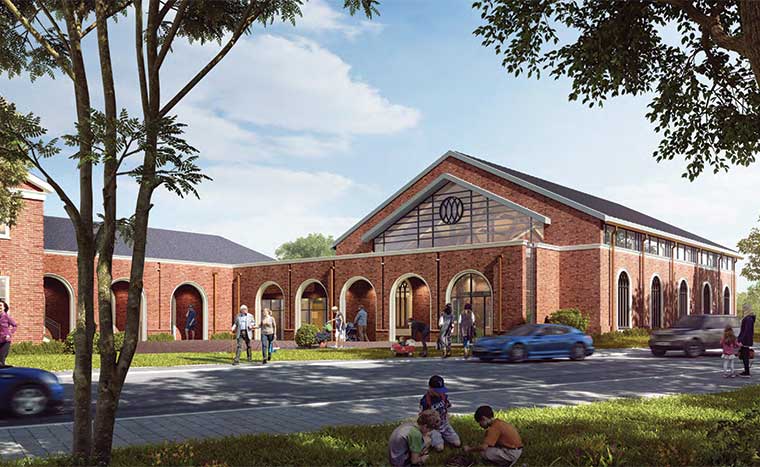 04.12.18

|

Stories, Stewardship

| by

Gary Fulton
The ceremonial groundbreaking for the Imagine Project is Sunday, May 20, 2018. The Building Committee is excited to present these renderings of the exterior of the proposed OnPoint worship and fellowship hall building, to be built near the corner of Oberlin Road and Colonial Road, and the interior of the new building as it will look when set up for worship. Two screens will be used to project the sermon each Sunday. This new space will seat approximately 500 people and will have a KidsPoint area, a robing room, and storage for musical equipment, chairs and tables. When set for fellowship events and meals, we will be able to seat 375 people around tables.
The area will have close proximity to the new kitchen. A gracious hallway will connect the new building with the existing Knox Building. The current Geneva Hall and kitchen area will become a welcoming youth space with close proximity to the renovated Pickard Hall gym. The existing K100 will feature a smaller dining room for groups up to 75 people and an Outreach area.
The exterior rendering shows the inviting courtyard off of Oberlin Road that leads to the entrance of the welcome center on the upper floor of the new building. Covered walkways lead to the current Luther Building. One of two playgrounds will be to the left of the courtyard.
It's not too late to be a part of this significant project in the life of our church. Find more about making a financial commitment here.