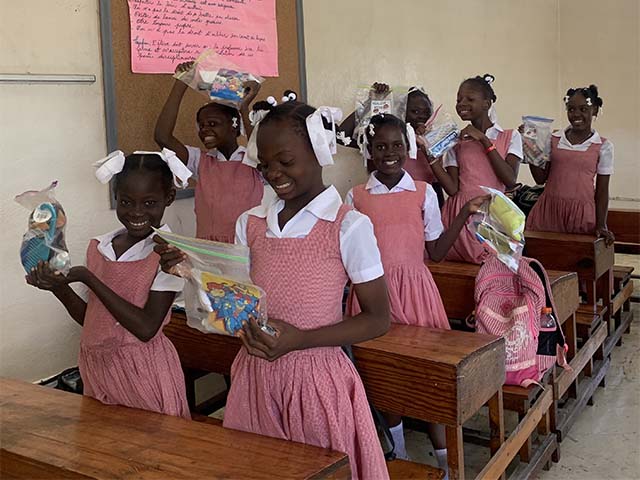 04.12.17

|

Stories, International, Haiti, Service
For many White Memorial members, the holidays mean an abundance of gifts to give and receive. But what if your family has so little income that even providing the basics is a daily challenge?
One of our church's ways to meet the needs of struggling families during the 2016 holiday season played out as the Healthy Kids Kit project. Gloria Johnson hoped we would provide 500 kits for children in Haiti, created on the model given by Presbyterian Disaster Relief: towel, washcloth, soap, toothbrush, toothpaste, nail clipper, comb, band-aids. Since the project was completed during December, a small toy was also included.
Church members responded enthusiastically! The goal of 500 kits turned into a total of nearly 900 gifts! With kits overtaking her office, Gloria struggled to squirrel them away in every nook and cranny she could find on the church campus. Finally, there was nothing left to do but to get them to Haiti. Quickly!
But here was another challenge: shipping items to Haiti is so problematic that hand-delivery is often the only alternative for providing much-needed supplies. Enter a group of 11 women, who eagerly volunteered to travel to Haiti from February 9-13, and deliver kits into the hands of Haiti Outreach Ministries' school children. Problem solved!
You'll be interested to know that Haiti Outreach Ministries has been a WMPC mission partner for nearly two decades. The organization serves the most economically disadvantaged families in the western hemisphere. So each Healthy Kids Kit, representing a gift of $20 or more, is recognized as a significant assistance to an urban Haitian family whose income averages around US $500 annually.
The 11 women travelers will tell you their trip to Haiti was a privilege. Enjoy an experience of armchair travel through the photos provided here. And thank you, White Memorial, for your wonderful gifts that helped so many children in Haiti!
When asked about the frequency of receiving health kits for Haiti Outreach Ministries students, "I wish we received hundreds of healthy kits frequently, but the reality is that we receive a gift like this less than once a year."
The group that traveled to Haiti included: Lee Ann Buck, Tracey Daniel, Cathy Johnson, Lillian Poole, Raymonde Koonce, Susan Mulligan, Julie Leon, Judy Tardiff, Kathy Kidd, Diane Payne and Gwen Whiteman