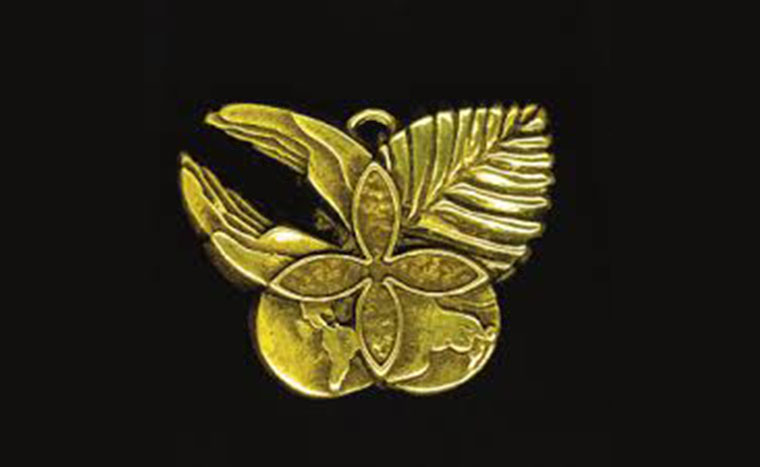 05.06.20

|

Adult
The Honorary Life Membership program was established by the Presbyterian Women of the PCUSA to honor faithful service to the church
Please join Presbyterian Women in celebrating this year's Honorary Lifetime Members who were announced via Zoom on Monday, May 4, 2020. When you read their bio's you will instantly see why they have been inducted into this group. Their accomplishments, their grace and their love of God are evident in the works they do. Be sure and congratulate them when you see them next!
Their pins and certificates will be presented in person at a later date.
About the Logo
The caring, supportive hands represent women who seek to build an inclusive community of Presbyterian Women. The leaf represents growth of our personal and corporate response to Jesus Christ as we nurture our faith. The dove indicates our work for peace in our own lives and throughout the world, shown in the globe. At the center of the design is the cross, by which our sins are forgiven and we are freed to live in Christ who is at the center of our lives. The overall design is of a butterfly, a symbol of newness in Christ.
2020 WHITE MEMORIAL
PRESBYTERIAN WOMEN
HONORARY LIFE MEMBERSHIP
RECIPIENTS
Susan Sams Allen
by Harriet Jennings

"I can help!" This is the guiding motto for Susan Sams Allen as she has journeyed throughout her life. Even as a second-grader at Selwyn Elementary School in Charlotte, North Carolina, Susan's little hand went up to help both teacher and her classmates. Her long-time friend and confidant, Peebee Scott said that she has never known Susan to say "no" to anyone who asked her to do anything.
Susan grew up in the bosom of Covenant Presbyterian Church in Charlotte under the leadership of Reverend Warner Hall, Sr. Her parents, Martha and Arthur Sams saw that their third daughter "toed the line" with correct behavior. She became known to all who knew her as the "good child" who practiced the area of volunteering - volunteering to serve others. Susan learned at an early age that compassion and commitment are necessary attributes to be valued as a volunteer. She readily accepts responsibility to complete each task on time that demonstrates her trustworthiness and effectiveness as a volunteer. Compassion and commitment with a dash of humor and her cheerful demeanor are personality hallmarks that make her a valued volunteer and friend to all who interact with her.
After graduating from Myers Park High School, she attended Wingate College, then on to UNC-Chapel Hill to earn her Dental Hygiene degree. While practicing dental hygiene in Raleigh, she met and married Tommy Allen, and Michael and Meredith came into their lives. When it came time for Michael to begin preschool, she and Tommy joined WMPC and Michael attended Weekday School. It was then that Susan began her service at WMPC as a 2nd grade Sunday School teacher for six years.
Susan is involved with church and community. She is a member and Co-Circle Representative for Circle M, which meets every Tuesday morning at 7:00. She is known for her spontaneous expressive prayers that beautifully articulate the intent of wide-ranging requests. Her creative talent is also put to use as Scrapbook Chair and journal keeper.
Susan serves as PW Project Coordinator under the auspices of the Reverend Gloria Johnson. It is her responsibility to identify, organize and implement the monthly designated community projects. She is also a member of the PW Finance and Coordinating Committees. Presently, she has accepted the responsibility to be the incoming 2020-22 PW Spiritual Nurture Coordinator.
Currently, Susan is a Stephen Minister. As a member of the Ecumenical Mid-Summer Celebration Planning Committee, she has served as a Camp Counselor and teacher for the Puppet Shows (seven years). Susan has found other ways to serve: Vacation Bible School teacher, Acts of Faith Theater Planning Committee, Church Service Committee, Wedding Guild, Confirmand Prayer Partner, Bell Choir, WTR Choir and Community Service Committee. Being creative, she taught Christmas wreath-making to the Keenagers. She can work with all ages. Known for her morally-sound leadership qualities and service commitment, Susan was nominated and elected to be a WMPC Deacon for the forthcoming 2023 Diaconate Class.
Susan enjoys being involved with the Raleigh community. She has found her niche for volunteerism with the Raleigh Woman's Club. Presently she serves as chair of the Hostess Committee and charged with membership hospitality. As an act of community outreach, she has volunteered to be a Docent at the Governor's Mansion for the coming year.
DeLana Anderson
by Diane Britt

Everyone knows that if you want something done at church, you ask the Women of the Church to do it, but I think that if you want something done at White Memorial (and you want it done right), then you should ask DeLana Anderson to do it. As an active member of Circle C, DeLana always contributes her wit and wisdom to our discussions, but she also shares her gifts as a Circle Leader. In addition to having served as our Treasurer, DeLana has coordinated the Circle C hostess duties for years. The Mother-Daughter Banquet/Girls Night Out was always a beautiful event—she arranged decorations, purchased fun prizes, and served as our Emcee for games and announcements—and now she is organizing the February luncheons for us. For the Women's Retreat, DeLana has helped welcome attendees as the Hospitality Chair and has ensured they feel connected, both as a small group leader and as the Chair of the Small Groups Committee, among other PW retreat roles over the years. DeLana has also hosted the Children's Choir reception and pulled together generous Choir Leader gifts, and I'm sure she coordinates wonderful weddings as a part of the White Memorial Wedding Guild. As a former teacher, she is a natural Sunday School and Confirmation leader, and she's taught children's classes for at least the thirteen years that I've known her. While her teaching and parenting experience add value to our church Youth Committee, she shares her prior cheerleading coach skills of organization and enthusiasm with our Generosity campaign through the Stewardship committee. She is Chair of the Deacons this year during her second Deacon term, and she has faithfully served White Memorial on numerous pastor Search Committees—DeLana has also sweetly mentored my high schooler in both of those groups. She is the first one to offer her home and hospitality for church fellowship events like dinners for search committees, Young Families, and Parents of Youth, and you are lucky if you get to experience her cooking.
Not only are she and her family regular attendees for Sunday School and worship, but you'll also find them at church for Wednesday Dinners, youth programming, choir practices, and numerous committee meetings during any given week. If you attended church on Youth Sunday, you either heard her daughter or my own mention that our girls are some of the very few youths whose families make them get up for church every Sunday and go to all of the various retreats and programs arranged for youth. Fortunately, they mentioned it in a positive light, as their regular attendance at White Memorial has helped them develop true friendships and a family away from home.
DeLana has balanced her work at White Memorial with volunteering at her children's schools. She has served as PTA President in the past, and she recently coordinated the Senior Breakfast at Athens Drive High School, where she decorated the gym late one night and then picked up 400 biscuits from several different restaurants before the 7:30 a.m. school start the next day. Additionally, DeLana serves in the Cary Debutante Society and has been an active member of the Junior League, and she keeps even busier playing on a tennis team and carting two active daughters around to their various activities. She is a thoughtful and gracious friend to many, preparing meals and checking in with friends to make sure they are cared for during difficult times.
I'm sure I've missed many other volunteer roles she's tackled over the years, both at WMPC and in the community, but I'm sure she's done all of those with effort and class, too. She always brings the most style to the room and with the brightest smile, plus she's a super Women's Retreat roommate. It is with great joy that I get to present the Presbyterian Women's Honorary Life Membership to DeLana Anderson.
Sally McLaurin
by June Ann Ward

Sally McLaurin grew up in Southwest Ohio with loving parents, two sisters (Janey and Barby), one brother (Tom) and many, many friends. In her youth, her family trained and showed Tennessee walking horses. The summer Sally turned 16, her dad encouraged her to go to North Carolina with her horse to learn more about showing and training her own horse and others. It was there that she met her future husband who was working at the stable assisting the trainer.
At the end of the summer, Sally went back to Ohio to finish high school. She enrolled at Ohio University in Athens, Ohio where she joined Pi Beta Phi sorority. After two years there, she transferred to NCSU and moved to Raleigh. Sally and Billy were married in 1973 as she continued to study at NC State.
In the late 1970s, they started attending White Memorial Presbyterian Church. As their children came of age, they were enrolled in the White Memorial Weekday School. When the third child enrolled Sally decided to join the staff as an assistant teacher. For the past 36 years, she has given all she has to our sweet preschoolers. While working at White Memorial she also helped out with their family business. Sally does plan to retire from the preschool this spring, but she will continue to maintain very valuable friendships she has made over the years.
Sally and Billy have three successful children, Amanda and Joel in Seattle, John and Mary in Richmond, and Andy here in Raleigh. Her family is extremely close, and for many years the McLaurin family gathered after church every Sunday to share a meal. One of her greatest gifts is nurturing relationships, and this rang true with her family. Committed, kind, generous, and creative are ways her friends have described her. Her husband said, "you can't say all there is to say good about her in just 5 to 7 minutes." Sally has willfully joined hands with Billy while he has met commitments over the years with Rotary International. She embraced friendships from all over the world with him.
Sally's generous heart has spilled over into the church through volunteerism. For more than a decade she has been a leader, contributor and donated hundreds of hours to our Russian Ministry Partnership. She inspired the entire sewing group with her passion to provide gifts for less advantaged children. These donations include over 50 quilts for children who attend Rodnik, which is the Conference Center in Smolensk, for which White Memorial provided major financial help. When Rodnik was dedicated in 2012, the gift presented from our church was a large quilted wall hanging of a beautiful cross that Sally designed and created. It still hangs in the main assembly room there as a reminder of the partnership and friendship of our two churches. https://whitememorial.org/article/rodnik-camp-2019/
She has also dreamed up ideas for the children living in orphanages such as, countless coloring book bags, dozens of jumpers and pant-sets, roll-up chalkboards just to name a few.
Sally is also a major contributor to White Memorial's Liturgical Arts Guild. She used her talents and artistic abilities to create the four Advent panels we use in the sanctuary, HOPE, JOY, PEACE AND LOVE. She led the Russian sewing group when they accepted the challenge of making over 200 reversible scapulas for the adult church choir. The paraments for the sanctuary, Davidson Chapel, and OnPoint pulpit and lectionary lecterns were designed by her. Sally's true leadership makes her a valuable and faithful contributor to the Guild.
When Sally is not sewing for the church, she is making gifts for friends and family, decorating, exercising, traveling and enjoying her people.
Sally, you are receiving the Honorary Life Membership through White Memorial Presbyterian Women of the Church this year. An Honorary Life Membership in Presbyterian Women is given to an individual for recognition of faithful service in some area of the church's work. You have been seen as one who gives honor and glory to God while serving Him actively and faithfully in our church and community. I think you will all agree this is well deserved. Well done my friend.
Danita Morgan
by Anna Hattaway

The Honorary Life Membership to Presbyterian Women of White Memorial Presbyterian Church is given to people who have a selfless devotion to church and community, serving with joy, grace, and good humor. Danita Morgan is such a person.
Danita is a Tar Heel born and bred. While at Chapel Hill she met Chris White and married him in Chapel Hill almost 38 years ago. It would be hard to find a more devoted Tar Heel fan. I understand her three cats are named for Carolina basketball players!
Danita has spent most of her professional years serving non-profits in leadership and development positions. Since September 2018, she is Director of Development, Major Gifts, Lineberger Cancer Center at UNC-Chapel Hill. She has served as the development director of Habitat for Humanity of Wake Co., Urban Ministries of Wake Co., Prevent Blindness N.C., SAFEChild, and other non-profits. Her leadership of these efforts has resulted in major successful initiatives in Wake County and throughout the state. She has been President of the Junior League of Raleigh, is President of her sorority, Gamma Lambda Chapter of Phi Mu, UNC-Chapel Hill, was Triangle United Way Funding Team Leader for six years, and holds other volunteer positions too numerous to name.
Danita and Chris joined WMPC in 1994, members of the church's first Beginnings Class. She has always taken her faith and her commitment to White Memorial seriously. She has been Confirmation Committee chair, member of Martha Ministry, Women's Prison Ministry, Companion Animal Ministry, usher, van driver...she accepts numerous jobs and does all well! For three years Danita was the International Missions Director at WMPC, and those were formative years in the development of relationships with our international partners. Danita developed and led training for trip leaders and participants, and trips increased from two to six within one year. She led trips to Haiti, Mexico, and Russia and helped organize the trip to the Middle East.
Danita has served as a Deacon and now is an Elder and serving on the Session. How grateful we are that she enthusiastically leads the Imagine Campaign - which has raised $20 million to increase outreach funds and build and renovate the beautiful new spaces we soon will enjoy.
In the words of a WMPC member, "Danita Morgan is a person blessed with many leadership talents. She has turned her "ten talents" into multiple talents for the betterment of people in Wake County and beyond. Gifted, with a modest demeanor, she has a genuine love for people. She truly is one who gives of herself in service to others as a way to show gratitude to God."
Lynn Springfield
by Marlene Batchelor

An Honorary Life Membership in Presbyterian Women is conferred upon an individual in recognition of faithful service in some area of the Church's work. Lynn Springfield has made tremendous contributions to both White Memorial and our community. Lynn grew up in LaGrange, Georgia where her parents were devout Presbyterians at First Presbyterian. Lynn's family attended Sunday School every Sunday, and according to Lynn's brother "And that meant EVERY Sunday".
Lynn's first experience of grace was a Sunday morning in the first grade. She wasn't quite ready to leave for Sunday School when the rest of the family was ready to go. After several warnings, the family vehicle pulled out of the driveway, headed to church. A few minutes later, Lynn left on foot. After walking three-quarters of a mile to church, she was very late for Sunday School. Her Sunday School teacher graciously welcomed her into the class that day, without any questions, and Lynn has never forgotten it.
Lynn knew from a very early age that she wanted to teach children. Her first lessons were to her stuffed animals that she lined up on her bed for instruction. By the time she got to Wake Forest University, it was no surprise that she majored in education.
At Wake Forest, Lynn met her future husband, Mark. While Mark attended law school at the University of Georgia, Lynn taught children with learning disabilities, her focus in college, for a year before going back to school to earn a master's degree in education from the University of Georgia.
Lynn and Mark married in the summer before Mark's third year of law school. Lynn's best friend from Wake Forest, Stephanie Roach, persuaded her husband, Gerald, to lobby his law firm to give Mark a look. A job offer from Smith Anderson brought Lynn and Mark to Raleigh, and the Roach's invited the newly arrived Springfields to White Memorial. Lynn and Mark immediately became active in Sunday School and fellowship groups.
Lynn taught in the Wake County Public School System for two years, resourcing the educational program for academically gifted, elementary-age children. When their first son, Jonathan, was born, Lynn left her paid teaching position, but her teaching never stopped. Daughter, Anna and son, Matthew completed their family, and they all benefited immensely by becoming real-life substitutes for the stuffed animals Lynn used as a child.
When Lynn's youngest child, Matthew, was about a year and a half old, Martha Stevenson and the White Memorial staff asked Lynn to give a part-time hand to Martha by overseeing the elementary children's ministry. Mark's parents were planning to retire and move to Cary, so the timing was right for Lynn to join our staff in September of 1995. Martha Stevenson, our Church Educator Emerita says the following about Lynn.
"Whether as a public school teacher, a mother, or member of the church's children's ministry staff, Lynn Springfield's strength, vision, perseverance, organization, and commitment have impacted and strengthened the experiences and faith formation of hundreds of children and their families. Lynn is a planner who is always ahead of the game. She stays quietly in the background but is sure no teacher lacks the Wise Men puppets or magic markers he needs on Sunday morning. In addition, her efforts are not limited to the classroom. This woman is a skater who LOVES taking our children to the skating rink and skates alongside them. White Memorial is strengthened from many directions because of Lynn Springfield's contributions."
A parent who teaches elementary Church School describes Lynn as incredibly patient and creative. She uses amazing strategies to reach each child by identifying and encouraging the use of their skills and talents. She is supportive emotionally to both teacher and child, proactively and reactively, and on top of that is a "Roller Skating Diva"!
One of Lynn's good friends describes her work at White Memorial as sacrificial. She has given her time, energy, educational research and organization to adapt to changing circumstances and best practices in Christian Education. She loves the young friends she has made while recruiting volunteers to WMPC for the past 20+ years. Even in the past few weeks, Lynn has been teaching our children the Lord's Prayer with hand motions on Zoom from her back porch. Lynn is faithful in her devotion to her family, church and Friends. Despite her super work ethic and commitment to excellence in everything she does, Lynn finds time to walk and talk with her friends each week. You can also find Lynn around town entertaining groups dancing with Razzmatazz, a team of Broadway-style dancing ladies!
One of Lynn's nominators says, "Lynn's integrity, organizational skills, and passion for children's ministry have been steadfast and strong in contributing to the church staff's ministries. As an exemplary Presbyterian woman, she exudes what this award embodies."
It is a great joy to announce that Lynn Hardie Springfield is the recipient of the Presbyterian Women's Honorary Life Membership.