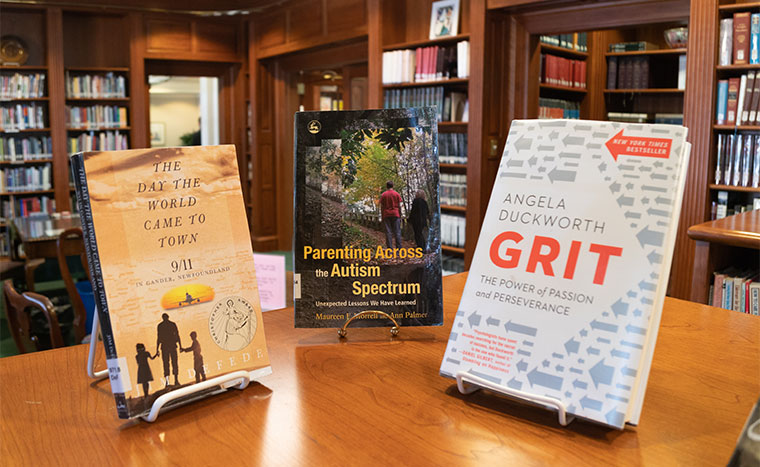 05.15.18

|

Library, Adult
White Memorial's library is available for use by our members and staff. It is located in the Witherspoon Building, just opposite the main reception desk, and is open when the church is open. You can also view our online catalog through the WMPC website. To check out a book, follow the directions posted on the library desk (remember to include your phone number). Books are due in three weeks. We hope you'll visit soon!
Adults
Everything Happens For A Reason And Other Lies I've Loved by Kate Bowler (362.19 Bow)

Kate Bowler, Triangle resident and author of this book, is a professor at Duke Divinity School, a loving wife, a mother of a young son, and a woman living with incurable Stage 4 cancer. This small book relates how she contemplates the prospect of her own mortality. It is warm, witty and ruthless. Two helpful appendices of the book give advice on what not to say to people in the midst of crisis and suggest positive things one might say or do.


Hallelujah Anyway: Rediscovering Mercy by Ann Lamott (241.4 Lam)

In her new book Hallelujah Anyway: Rediscovering Mercy, Anne Lamott describes mercy this way: "Mercy is radical kindness. Mercy means offering or being offered aid in desperate straits. Mercy is not deserved. It involves forgiving the unforgivable. Mercy brings us to the miracle of apology, given and accepted, to unashamed humility when we have erred or forgotten. Mercy, grace, and compassion are all synonyms." Lamott says that God doesn't give us answers. God gives us grace and mercy.
In addition to personal faith stories, Lamott uses several Biblical stories as examples of mercy being shown, even in difficult situations. She explains the importance of mercy and the extraordinary power it can have if we welcome it and share it with others.
In this insightful, encouraging book, Lamott says that mercy lies at the heart of all great faith traditions and our own spiritual identity. It is the medicine, the light that shines in dark places. In the words of the great gospel song, "Hallelujah Anyway," we shout "Hallelujah" because there is love, singing, laughing, and mercy!


Grit by Angela Duckworth (158.1 Duc)

Grit was so engaging that my 20-something-year-old daughter and I read it together in "book club" fashion. It offers those of all ages advice on how to "grow grit," the passion and perseverance to long-term goals. Duckworth believes grit has more to do with success than innate talent—that's motivating since we can develop it! Her concepts come alive with numerous stories, examples, and research. Note: Grier Richards referred to Grit fairly extensively in one of her sermons.


Parenting Across the Autism Spectrum: Unexpected Lessons We Have Learned by Ann Palmer and Maureen F. Morrell (649.154 Mor)

In Parenting Across the Autism Spectrum, two mothers of autistic sons on opposite ends of the spectrum give courageous and fearless looks into how autism has affected their lives. Maureen Morrell and Ann Palmer discuss their lives from the boys' births to their adulthood. If you are the parent or grandparent or supporter of an autistic child, this is the book for you. The two mothers share the fears, tears, hopes, dreams, and special joys that an autistic child can bring. As reader, you follow the two boys from childhood to adulthood as each reaches his potential in leading fulfilling and productive lives.


The Day the World Came to Town: 9/11 in Gander, Newfoundland by Jim DeFede (971.8 DeF)

This beautiful book tells of goodness and hospitality in the aftermath of hateful acts. Grier Richards brought attention to the book in a sermon. On September 11, 38 planes with 6,595 passengers and crewmembers landed in Gander, Newfoundland, a town of 10,000 people. The flights were diverted when the U.S. air space was closed after the terror attacks. This book gives a day-by-day description of how the people of Gander exhibited "their willingness to help others" with an outpouring of helpfulness and friendship during the week after 9/11.


Daring Greatly: How the Courage to be Vulnerable Transforms the Way We Live, Love and Lead by Brené Brown (158 Bro)

Brené Brown researches vulnerability, imperfection, courage, authenticity and shame as a professor at the University of Houston Graduate College of Social Work. In 2010 she delivered a TED talk on the Power of Vulnerability and connected with thousands of people through her groundbreaking work. In Daring Greatly, Brown shares openly and honestly about her own vulnerabilities and how her life has been transformed by what she has learned. Brown challenges her readers to make relationships genuine and to live wholeheartedly even in the undeniable reality that each of us will experience vulnerability. This book will be the WMPC church-wide read this summer.


Wait, What? And Life's Other Essential Questions by James E. Ryan (153.42 Rya)

This short book full of sage advice is written by James Ryan, dean of Harvard's Graduate School of Education. Using true stories of his own life, the author provides compelling evidence of how asking the five questions (and a bonus question!) can enrich our lives. Ryan says that continuing to ask the essential questions will lead to clarity, increased curiosity, finding common ground, empathy and determining the truly important. Ryan has a wonderful sense of humor and pokes fun at himself as he shares his stories to illustrate his thesis. You can easily read this book in a couple of hours, but its impact will last much longer. Gary Fulton mentioned Wait, What? in the Spring issue of WMPC Word magazine.


Adoptive Youth Ministry by Chap Clark (259.23 Ado)

In this book, one of the leading voices in youth ministry today, Chap Clark, brings together 24 experts from a variety of denominations and traditions. The book is broken into four parts: the Context of Adoptive Youth Ministry, The Call to Adoptive Youth Ministry, The Practice of Adoptive Youth Ministry and The Skills of Adoptive Youth Ministry. Each part is further broken down into five chapters. The fifth chapter, "Screen Time, A Window into a Teens Dreams," is a must read for parents of teenagers. This book is not a quick read, but it is very informative and well written.
Youth
Refugee by Alan Gratz (J F Gra)

This book tells the story of Josef, Isabel and Mahmoud, three young people in three different time periods—Nazi Germany, Castro's Cuba and modern day Syria. All three fled their homes to find refuge in a new country. Their harrowing adventures provide vivid and realistic portrayals of the many trials faced by refugees today. Although fiction, the novel includes numerous references to actual events such as Cuba's refusal to allow the ship MS St. Louis, which was transporting hundreds of Jewish refugees from the Nazis, into its port of Havana Harbor. The story of Mahmoud from Aleppo describes the plight of many Syrians who are fleeing their ruined, warzone city today. Although sometimes difficult to read due to the horror described, this powerful book keeps a reader enthralled until the very last word.
Children
Wolf In The Snow by Matthew Cordell (E C)

This 2018 Coldecott winner will spark imaginations and warm hearts. A girl is lost in a snowstorm. A wolf cub is lost, too. Paintings rich with feeling tell this satisfying story of friendship and trust.