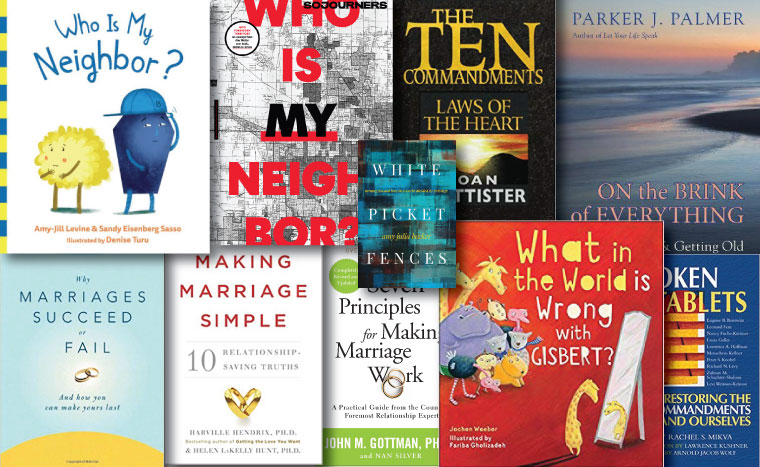 01.09.20

|

Stories, Library
White Memorial's library is available for use by our members and staff. It is located in the Witherspoon building, just opposite the main reception desk and is open when the church is open. You can also view our online catalog through the WMPC website. To check out a book, follow the directions posted on the library desk (Remember to include your phone number). Books are due in three weeks. We hope you'll visit soon!
Adult
On the Brink of Everything: Grace, Gravity & Getting Old by Parker Palmer (155.67 Pal)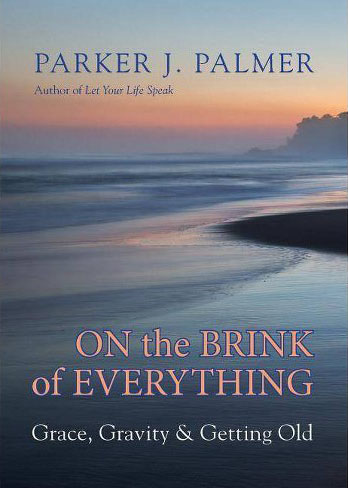 This tenth book by Parker Palmer is a collection of essays exploring the questions that age raises and the promises age holds. "Old," he writes, "is just another word for nothing to lose, a time to dive deep into life, not withdraw to the shadows." This latest book provides much helpful counsel, poetry, and even a spirited discussion on our current president.
The Ten Commandments: Laws of the Heart by Joan Chittister (241.52 Chi)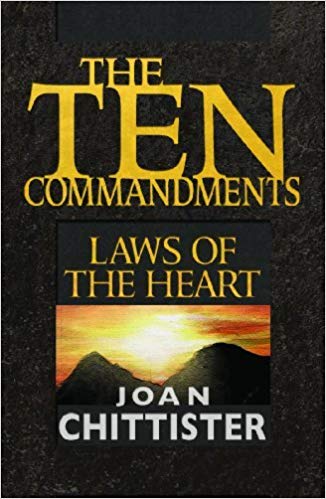 What do the Ten Commandments mean to us in the world today where Jews, Christians, and Muslims all claim to embrace Moses and the Tablets given on Mt. Sinai? Are they a set of rules or a way of life? Chittister presents each commandment from three points of view. First, she discusses the historical understanding and what the commandment meant to the Jewish community of that time. Second, she looks at situations in which the commandment applies to us today. Third, she tries to broaden our personal perspective and provoke us to consider what it means to follow a commandment. Chittister, a Benedictine Nun, has been a leading voice in contemporary spirituality for over 25 years and has written several books.
Broken Tablets by Rachel S. Mikva (296.36 Bro)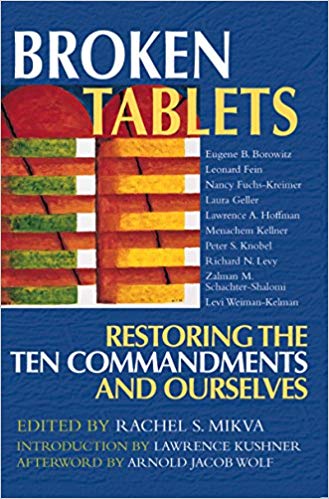 This beautiful book helps readers gain insight into the Ten Commandments through the eyes of twelve outstanding Jewish leaders. In voices that are personal and diverse, they take a closer look at the Ten utterances that not only touch every aspect of our lives, but also present each of us with profound challenges. "Although Moses shattered the first ten tablets containing the Ten Words when he saw the Israelites worshiping the golden calf, even the broken pieces were deposited in the ark. Once a vessel for God's teaching they remain forever sacred, forever whole" (Menachot). Rabbi Mikva does an outstanding job of compiling thoughts from these leaders and makes readers even more aware that the Ten Commandments are one of the few things that Christians, Jews and Muslims all share. Please do yourself a favor and look at this book.
Featured at the Presbyterian Women's retreat, 2020
White Picket Fences: Turning Toward Love in a World Divided by Privilege by Amy Julia Becker (241.4 Bec)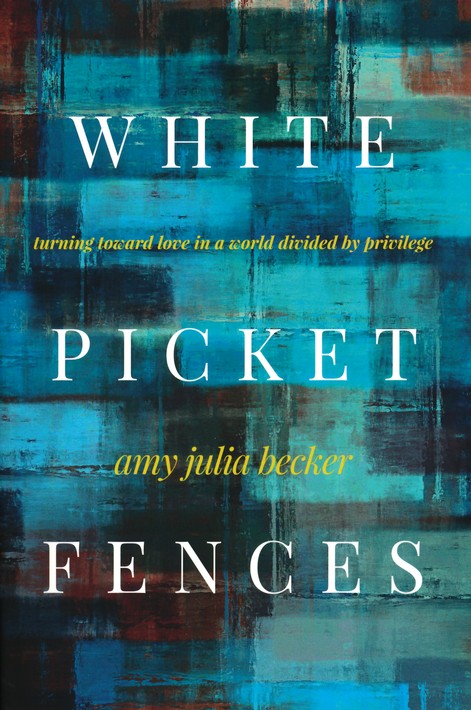 This book is written by Amy Julia Becker, keynote speaker for the 2020 Presbyterian Women's retreat. In this memoir, Becker tells the story of her journey from her privileged southern childhood to her adult life in the Northeast and her struggles as the mother of a child with special needs. Becker comes to realize that privilege involves both burden and responsibility and that privilege can wall us off from others and keep us from loving them, to our own detriment. Her experiences will resonate with many readers, and her journey will challenge many to think deeply about privilege and racism and the need for love.
Caldwell Library Offers a New Publication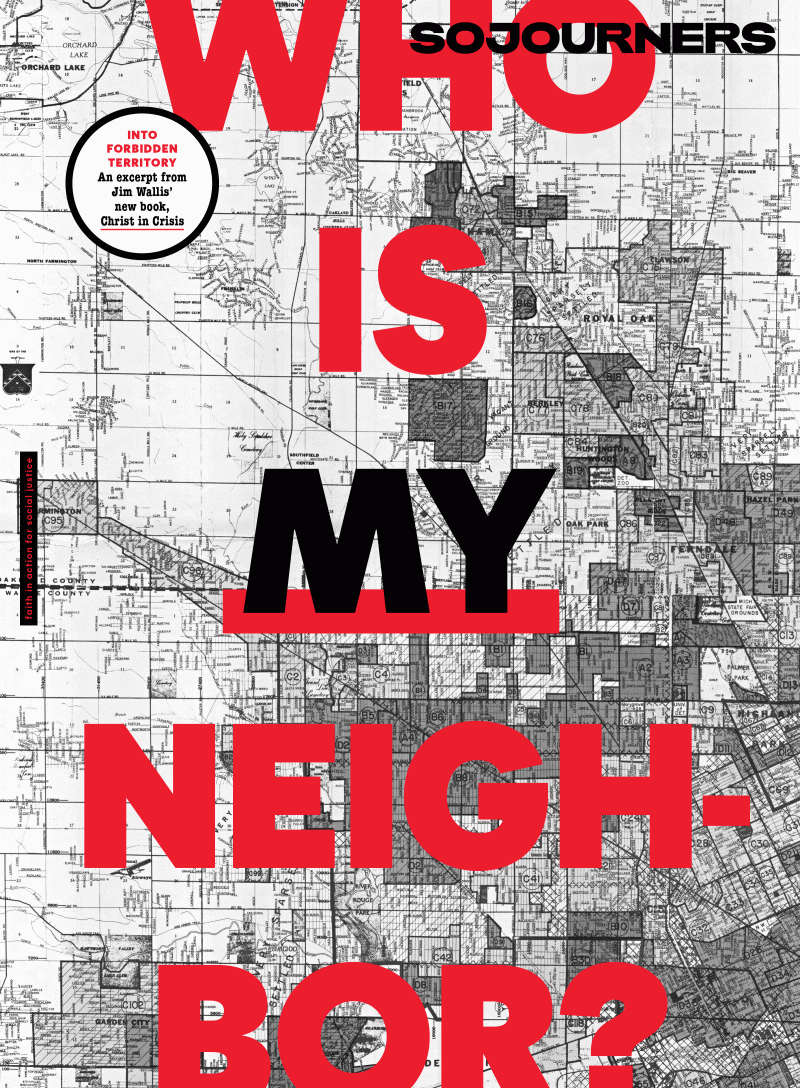 Sojourners is a monthly magazine, published by the American Christian Social Justice organization, which grew out of the Sojourners Community, founded in Washington, D.C. by Jim Wallis. The magazine covers cutting-edge topics in politics and faith, war and peace, social justice, art, and community, all from a biblical and ethical grounding. Wallis is a theologian, writer, teacher, and political activist. The November issue has a provocative article by Wallis entitled "Who Is My Neighbor?" Sojourners will be displayed near the other magazines in the library.
Marriage
At the request of the Library Committee, Dr. Landy Anderton recommended several helpful books about marriage. Here are three:
The Seven Principles for Making Marriage Work by John Gottman (306.81 Got)

Gottman has researched what makes a successful relationship for over 30 years. Real-life stories of couples are used to illustrate his concepts. You'll want to buy this book (after you borrow it from the library!), so you have his questionnaires to enrich your relationship.
Why Marriages Succeed or Fail … And How You Can Make Yours Last by John Gottman (306.81 Got)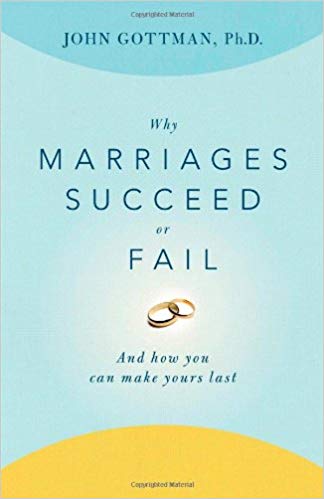 Based on over 20 years of scientific research on why some marriages fail and others survive, Dr. Gottman's study of hundreds of couples enables him to make predictions about factors that could lead some couples to divorce and others to stay married. Gottman uses numerous examples to illustrate some of the difficulties that can occur in a marriage and effective means of handling them. He stresses the importance of showing love and respect on a regular basis and states that "a lasting marriage results from a couple's ability to resolve the conflicts that are inevitable in any relationship." He concludes that "no matter what style your marriage follows, you must have at least five times as many positive as negative moments together if your marriage is to be stable." This book is a valuable resource with self-tests for diagnosing your marriage and specific remedies for making changes and improvements.
Making Marriage Simple; 10 Relationship-Saving Truths by Harville Hendrix and Helen LaKelly Hunt (306.81 Hen)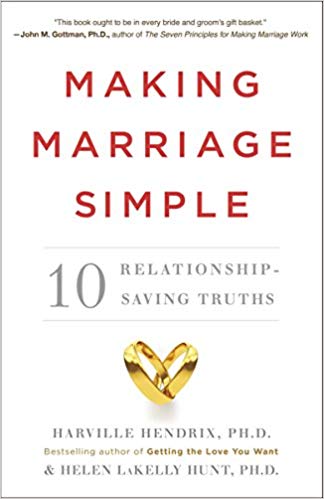 Almost thirty years ago, Hendrix and Hunt wrote one of the classic books on making a marriage healthy. The book, Getting the Love You Want, describes principles to make a marriage stronger. In their new book, Making Marriage Simple, you will find practical exercises to help you develop skills to improve your relationship with your partner. Nothing about being married is actually simple, but reading this book as a couple could save you lots of money later in couple's counseling.
Children
What in the World Is Wrong with Gisbert? by Jochen Weeber (E W)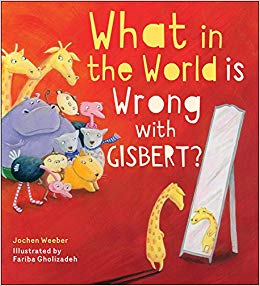 This story illustrates the harmful effects of making negative comments about others. Gisbert is a young giraffe who is happy with his life until he starts to shrink when his friends hurt him with their words. Gisbert's classmates mock him and make fun of him when he misses notes while learning to play a new song on his trumpet, when he wants to hang from a pole in gymnastics class, and when he gets stuck in a water slide. After Gisbert stays out of school for a week, his friends realize they miss him and ask him to come back to school. Gisbert's parents help him realize that people can hurt others with their unkind words even if they don't mean to. After receiving a warm welcome when he returns to school and apologies for making him sad, Gisbert grows tall again!
Who is my Neighbor? by Amy-Jill Levine and Sandy Eisenberg Sasso (E L)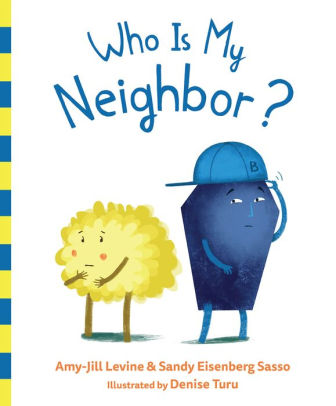 This is the story of the Blues and Yellows, two different groups who do not mix, to retell the Good Samaritan story in an easy to understand way. One day, Midnight Blue falls from his bike and is injured. Although two Blues come by, they are afraid and do not stop to help him. When Lemon comes by, however, although he is also afraid, he stops to help. Lemon takes Midnight Blue on his bike to see Dr. Gold who treats his injuries. Midnight Blue and Lemon learn that although they are different, they can still be friends. They share their experience with other Blues and Yellows and soon both communities decide they might like making new friends and could "all help one another!" This delightful book both entertains and teaches and shows how differences do not have to interfere with making friends.