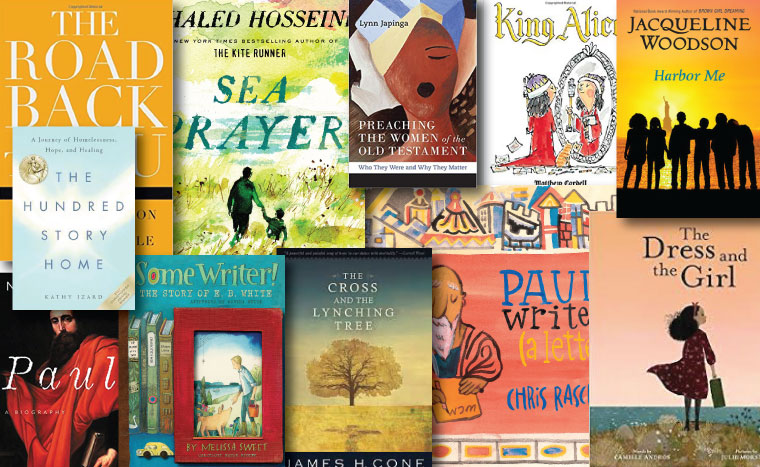 02.01.19

|

Stories, Library, Adult
White Memorial's library is available for use by our members and staff. It is located in the Witherspoon building, just opposite the main reception desk, and is open when the church is open. You can also view our online catalog through the WMPC website. To check out a book, follow the directions posted on the library desk (Remember to include your phone number). Books are due in three weeks. We hope you'll visit soon!
Adult
SEA PRAYER by Khaled Hosseini (813.6 Hos)

If you have been awaiting another book by Khaled Hosseini (author of Kite Runner), please pick up his latest book, Sea Prayer, in the Caldwell Library. Sea Prayer, a short but powerful book, only 48 pages, is a monologue from a father to his young son, as they wait on a moonlit beach with many other refugees hoping to take a boat which will deliver them to a new land. The few words and beautiful watercolor illustrations create a very strong impact.
PREACHING THE WOMEN OF THE OLD TESTAMENT, WHO THEY WERE AND WHY THEY MATTER by Lynn Japinga (221.922 Jap)

"People in the Bible are rarely entirely good or entirely evil. They have mixed motives." There are important women in the Bible besides Eve and Mary-or even Bathsheba and Ruth! Lynn Japinga, an ordained minister in the Reformed Church of America, has had the privilege of teaching Christian Feminism courses for 24 years about the fierce and faithful women of the Bible. In this book, she provides great insight into 40 women of the Old Testament, giving each one a personal and contemporary slant. It is an excellent resource for preachers, teachers, and study groups.
THE CROSS AND THE LYNCHING TREE by James Cone (277.3 Con)

The Cross and the Lynching Tree is a difficult and painful book to read with many details of the treatment of black people during a time in history we may not want to think about. Cone describes the lynching tree as "a metaphor for white America's crucifixion of black people," and "the window that best reveals the religious meaning of the cross in our land." Referencing poems and songs of black writers throughout the book, Cone shares how blacks faced the horror of their treatment and their suffering as he presents numerous descriptions of incidents of lynching. Comparing Jesus's death on the cross with the lynching of blacks, Cone challenges us to confront the past and "ongoing legacy of white supremacy with repentance and reparation." If we respond to the challenge, Cone sees hope "beyond tragedy."
THE ROAD BACK TO YOU by Ian Morgan Cron and Suzanne Stabile (248.4 Cro)

If you are interested in understanding more about yourself and others, read The Road Back to You. Written by an Episcopal priest, this motivating book explains The Enneagram, an ancient system describing nine personality styles. The author uses narratives to describe traits of each type and provides spiritual advice to become your "healthy" self. You can go on-line and do a self-assessment to figure out your type. This book was discussed in God Talk, a women's Bible study led by Grier Richards.

Featured at the Presbyterian Women's retreat, February 8-10, 2019
THE HUNDRED STORY HOME by Kathy Izard (259.086 Iza)

The Hundred Story Home is the beautiful memoir of graphic designer and Urban Ministries volunteer, Kathy Izard, and her journey to house the chronically homeless in Charlotte, NC. Izard weaves together her own story with the stories of many others who helped make permanent housing a reality for their homeless friends. Her book captures the complicated nuances of homelessness and leaves you feeling hopeful and inspired.
Two Books About Paul
For adults: PAUL: A BIOGRAPHY by N. T. Wright (B Paul)

New Testament scholar N. T. Wright presents an account of Paul's life, using many references to the book of Acts and to the letters written by Paul. While acknowledging some speculation, Wright "offers a new way of understanding one of the most famous Christian figures." Anyone intrigued by Paul will find this a readable and informative book.
For children: PAUL WRITES (A LETTER) by Chris Raschka (E R)

In the delightful picture book Paul writes (a letter), Caldecott Medal winner Chris Raschka tells children about Paul. Each page spread offers a picture of Paul at work writing, along with words from his letters in the New Testament, written large enough for easy reading.
Middle School
HARBOR ME by Jacqueline Woodson (J F Woo)

This book for middle-grade students (and their parents!) celebrates the importance of allowing young people a safe space in which to share their stories. Harbor Me tells of six children who hesitate to talk about things they usually keep private and then, throughout the school year, in a special room provided by their teacher, express their feelings and grow braver and more prepared for the rest of their lives. The book deals with immigration, class issues, parent death, trust, and the breaking down of walls between people of different backgrounds. Six special kids discover friendship and common understanding.
Elementary
SOME WRITER! THE STORY OF E.B. WHITE by Melissa Sweet (J B White)

If you are a fan of Charlotte's Web or Stuart Little, this wonderful book by illustrator, writer, and Caldecott honor winner, Melissa Sweet, is a must read! The book is assembled as a kind of mock old-fashioned scrapbook, in a crowded, homespun style, mixing old snapshots and new drawings. The story follows the life of E.B. White from his birth in New York through his final days in Maine. The reader gets to learn interesting facts that made this man such a gifted writer.
Children
KING ALICE by Matthew Cordell (E C)

King Alice, a Caldecott Medal winner, will bring a smile to your face. You may even laugh out loud! When Alice and her family are stuck indoors on a snow day, Alice, a delightful, imaginative, and self-confident young girl, decides to write a book. As King Alice the First, Alice commands her knights (mom, dad and baby brother) to participate in the activities she dreams up, such as a princess tea party and a unicorn party, and then writes a chapter in her book about what happened. The descriptions and illustrations in each chapter make this a most enjoyable book for children and their parents alike!
THE DRESS AND THE GIRL by Camille Andros (E A)

Do you remember a special dress from your childhood? Have you ever wondered what happened to it and how many miles it may have traveled? This little girl immigrates to America from the Greek Isles, leaving her dress behind. When she is a grown woman, an extraordinary thing happens and precious memories become real. The Dress and the Girl is a beautiful book with lovely artwork that all children will
enjoy.