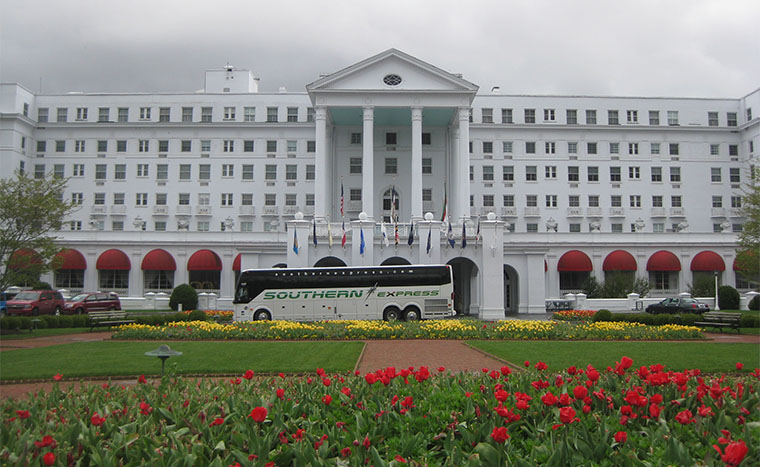 05.09.18

|

Stories, Older Adult
For over twenty years, the Older Adult Ministry has sponsored overnight trips to interesting and exciting locations, and these adventures provide times of great fellowship, informative sightseeing and much fun for those traveling with us.
This Spring in late April, over fifty White Memorial members and friends traveled to The Greenbrier for several days of enjoying the beauty and elegance of "America's Resort". We explored and experienced the luxury of this landmark hotel with its historic architecture, renowned interior design, myriad antiques and priceless art. The landscaped grounds were spectacular with more than twenty thousand tulips in full bloom. We felt like royalty as we enjoyed our elegant high tea in the afternoons, and we especially appreciated our lavish breakfasts and gourmet dinners together. It was truly like "going on a cruise on land".
While at The Greenbrier, several of our group toured the Bunker, which was a formerly classified facility for relocating Congress in the event of a national emergency. Some strolled through the beautiful grounds of the resort and others spent time checking out the shops, spa facilities, and other luxuries of the grand hotel. Many travelers chose to spend some time in nearby Lewisburg, touring the historic Old Stone Presbyterian Church and even singing on the stage of Carnegie Hall there. No matter what each traveler chose to do while at this fabulous resort, everyone had a wonderful time.
Plans are being made for another fun trip next Spring – perhaps to Charleston, SC. Watch for more information later in the year, and come join us!! You will be glad you did!!
Greenbrier Trip 2018