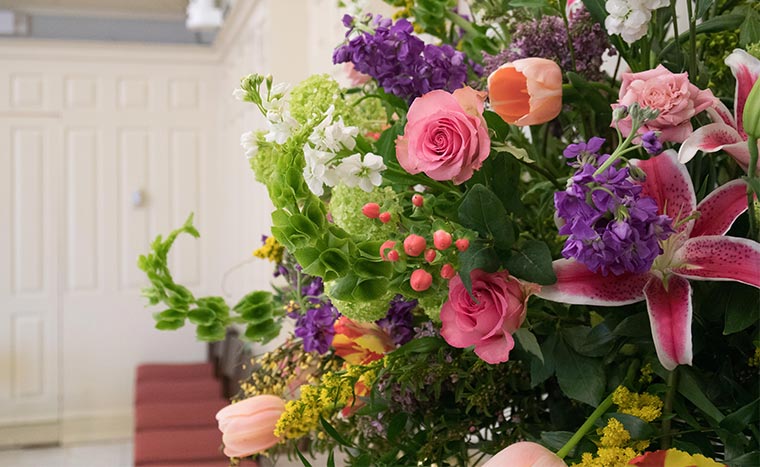 05.02.17

|

Stories
The Service of Witness to the Resurrection
We don't call it a funeral – even though the service is occasioned by death. Nor do we call it a celebration of life – even though we most certainly give thanks for life's triumph over death. Rather, in our tradition, in the PC(USA) version of the Reformed tradition, we call it a Service of Witness to the Resurrection (WTR). The name doesn't quite roll off the tongue, but it sure gets to the crux of what we do when we gather in the face of death!
Of course, Easter is the church's primary celebration of Christ's resurrection. And every Sunday worship service reflects Easter's central message. So, in some ways, each WTR is yet another echo of Easter and is shaped much like our Sunday morning worship. Indeed, at a White Memorial WTR, you can expect to sing hymns and listen for God's promises through scripture. You can be sure that we'll confess our need for God's healing work and give thanks for God's gifts of life and love. We will celebrate the ways God worked in the life of someone we loved, even as we give thanks for the ways someone we loved worked to make God's kingdom more evident. We will support one another and seek to place our ultimate trust in the One who created us.
Faced with a particular death, we will indeed celebrate life by proclaiming that Christ's resurrection transforms all of our living and dying. That's what a WTR is all about!
Making it Happen
Perhaps it goes without saying, but there is often quite a short window for preparing a service. Death has a way of, well, interrupting life! In addition to staff, though, there are three ministries at White Memorial that stay on alert for facilitating services of Witness to the Resurrection. Bereavement Care teams stand ready to prepare and serve a meal, reception or other hospitality to grieving families. The Witness to the Resurrection Choir – not a rehearsed choir, but a group of people willing to don a robe and support our worship by singing – watches for e-mail notices of services. And the Witness to the Resurrection Guild is always at the ready to provide the ushers, greeters and direct family support it takes in order for us to conduct the service. At present our Bereavement Care teams and Witness to the Resurrection Choir are well-supported – though neither ministry would say no to more participants! The Witness to the Resurrection Guild needs more members of our congregation to join them in serving.
Natalie Tennant is our current coordinator for the Witness to the Resurrection Guild. In her past three years of service, Natalie has coordinated (or arranged for someone else to coordinate) 87 WTR. Sometimes that has meant five services over about a 10-day period. One time that meant being at WMPC well after midnight in order for every visitor to have a chance to speak to a bereaved family. Occasionally the job means soothing anxious guests or smoothing ruffled feathers. The core of this ministry, though, is about hospitality – always remaining gracious ensures that the Guild helps us bear witness to resurrection even in the way we conduct a service.
Given the kinds of demands you've just read about, the Witness to the Resurrection Guild is shifting the way it works. We're moving toward multiple teams that will work in rotation. Hopefully, this will mean a much more manageable volunteer job for both the coordinator and for participants on the teams. What it also means is that we need many more church members to serve on the teams. For the vast majority of the time, a team member's commitment will be an occasional couple of hours and we will train you for the job. Would you be willing to serve?
Planning Ahead
While actual services of Witness to the Resurrection have a short planning window, that doesn't mean you can't plan ahead for the inevitable! In fact, beginning to come to terms with your own mortality is its own way of bearing witness to life's triumph over death. Think through the following questions, then share your answers with a friend, someone you love, or a pastor. You could even request a copy of In Life and Death We Belong to God from the church office and return the accompanying planning document.
• What scriptures and hymns have shaped your life and faith?
• How is God's love most clearly made evident by your life?
• Describe the way trust or hope or grace (or all three!) inform your views of life and death.
• What imprint or legacy do you hope will remain after you die?
Whatever else it might also mean to you, at its core resurrection means that life and love are stronger than death. Thanks be to God!